The Malawi National Tuberculosis Programme: an equity analysis
International Journal for Equity in Health
2007
6:24
Received: 21 August 2006
Accepted: 31 December 2007
Published: 31 December 2007
Abstract
Background
Until 2005, the Malawi National Tuberculosis Control Programme had been implemented as a vertical programme. Working within the Sector Wide Approach (SWAp) provides a new environment and new opportunities for monitoring the equity performance of the programme. This paper synthesizes what is known on equity and TB in Malawi and highlights areas for further action and advocacy.
Methods
A synthesis of a wide range of published and unpublished reports and studies using a variety of methodological approaches was undertaken and complemented by additional analysis of routine data on access to TB services. The analysis and recommendations were developed, through consultation with key stakeholders in Malawi and a review of the international literature.
Results
The lack of a prevalence survey severely limits the epidemiological knowledge base on TB and vulnerability. TB cases have increased rapidly from 5,334 in 1985 to 28,000 in 2006. This increase has been attributed to HIV/AIDS; 77% of TB patients are HIV positive. The age/gender breakdown of TB notification cases mirrors the HIV epidemic with higher rates amongst younger women and older men. The WHO estimates that only 48% of TB cases are detected in Malawi. The complexity of TB diagnosis requires repeated visits, long queues, and delays in sending results. This reduces poor women and men's ability to access and adhere to services. The costs of seeking TB care are high for poor women and men – up to 240% of monthly income as compared to 126% of monthly income for the non-poor. The TB Control Programme has attempted to increase access to TB services for vulnerable groups through community outreach activities, decentralising DOT and linking with HIV services.
Conclusion
The Programme of Work which is being delivered through the SWAp is a good opportunity to enhance equity and pro-poor health services. The major challenge is to increase case detection, especially amongst the poor, where we assume most 'missing cases' are to be found. In addition, the Programme needs a prevalence survey which will enable thorough equity monitoring and the development of responsive interventions to promote service access amongst 'missing' women, men, boys and girls.
Keywords
Care Seek
Directly Observe Treatment Short
Informal Provider
Notification Data
Sector Wide Approach
Background
Through a consultative process, Malawi's Ministry of Health (MoH) has developed the Programme of Work (PoW) which outlines the processes through which to deliver the Essential Health Package (EHP) [1]. The development and implementation of the EHP was adopted as the sector's main pro-poor strategy and contribution to the Malawi Poverty Reduction Strategy Papers (MPRSP) [2]. The primary goal of the EHP is to ensure that health services are accessible to all Malawians. The rationale behind the EHP as a pro-poor strategy is to focus on the major causes of morbidity and mortality, and address medical conditions and service gaps that disproportionately affect the rural poor. The MoH has adopted the Sector Wide Approach to health development as the overarching strategy for the implementation of the PoW. The PoW outlines health activities to be implemented by MoH, development partners and major not-for-profit NGOs like CHAM (Christian Health Association of Malawi) [1].
The National Tuberculosis Programme has historically been implemented as a vertical programme and has implemented the WHO recommended Directly Observed Treatment Short Course (DOTS) strategy since 1964. The DOTS strategy has five elements; government commitment, case detection through passive case finding, administration of standardised short course chemotherapy to at least all confirmed sputum smear positive cases of tuberculosis under proper management conditions; establishment of system of regular drug supply; and establishment and maintenance of a monitoring system[3].
In the first half of 2005, in response to the development of the PoW the Malawian National Tuberculosis Control Programme began the process moving away from a vertical programme and realigning its planning, approach and budgeting to be in line with the SWAp.
The Research for Equity and Community Health (REACH) Trust was commissioned by the Health Sector's Sub Group on Equity and Access to carry out a synthesis study to feed into the baseline analysis for monitoring equity in the Health Sector SWAp, in line with the Programme of Work. The objectives of the synthesis study were:
1. To conduct a broad analysis of equity concerns in TB control programming in Malawi
2. To analyse evidence on different group's vulnerabilities to tuberculosis
3. To assess and correlate information on pathways and care seeking patterns of patients and the impact of tuberculosis on different socio-economic groups
4. Develop practical recommendations for the TB programme and the broader health sector in Malawi.
Methods
A synthesis of existing evidence on equity and access to TB services in Malawi was undertaken to draw baseline information for monitoring programme performance. This synthesis was undertaken by the following:
1) Searching existing published and unpublished reports on access to TB services in Malawi. This involved searching national and international databases and contacting research institutions and the Ministry of Health. Data using a variety of methodological approaches were sought.
2) Conducting additional analysis: analysis of routinely collected data on service access from 1999 to 2005 by district and gender
3) Reviewing the international literature
4) Consultations with stakeholders including researchers and policy makers on availability of information, implications of the analysis undertaken and recommendations.
The analysis of the evidence collated was undertaken using the TB pathway to care. This pathway illustrated by figure
1
: Pathway to TB care is an adaptation of modeling of numbers presented by Uplekar et al in 2001 which highlights stages of illness and aims at estimating the number of people suffering from disease to those who access health services, get a diagnosis, reach the treatment stage and achieve a positive outcome [
4
]. Gender and poverty analysis was applied. This is because an individual's journey through the pathway to care is shaped by different axes of vulnerability such as gender and poverty and how these are experienced within households, communities and health systems. Gender analysis is used to unpack how socially and culturally constructed behaviour, roles, expectation and responsibilities all women and men learn in the context of their own societies affects access and adherence to TB treatment. Poverty analysis is also deployed to understand how deprivation of income or basic needs, absence of infrastructure, can shape access to care and health outcomes [
5
].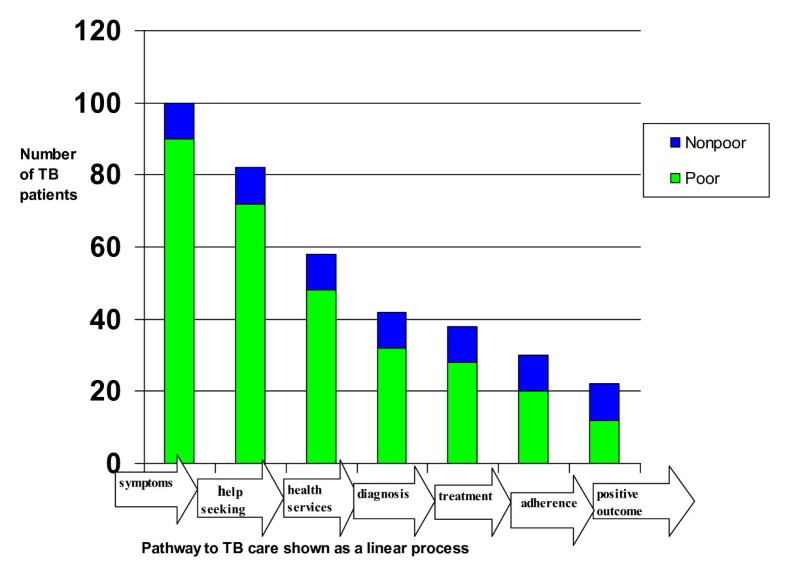 Findings
The findings are synthesized under the following themes: (1) epidemiological data linking TB and vulnerability, (2) pathways to care seeking, including health service related barriers, patient related barriers and the impact of care seeking on households (3) National TB Control Programme responses to equity challenges.
Discussion
The absence of a prevalence survey severely curtails our epidemiological knowledge base on TB in Malawi. Prevalence surveys conducted in the Philippines and Hanoi, Vietnam revealed high numbers of missing cases from notification data. In the Filipino context the poor had high prevalence compared to rural settings [26]. In Hanoi, there was a greater disparity between the male to female ratio among notified cases compared to the prevalence male to female ratio, revealing under-notification of female cases [27]. A prevalence survey in Malawi would produce knowledge on prevalence by socio-economic status, gender, age and geography which could be used to tailor interventions to try and meet the needs of different groups.
In Malawi as in Nigeria, The Gambia, Vietnam and Burkina Faso, poverty and gender interplay to shape pathways to care seeking at both community and health systems levels [28–33]. Rural populations in particular face health systems related barriers as diagnosis depends on efficient transport and communication between rural health facilities and district hospitals In the Malawian context as in Thailand and India, the financial costs of TB treatment are very high, and for poor patients in particular, can lead to further spiralling into poverty[34, 35].
The Malawian NTP has made some progressive steps to try and promote equity in access and adherence to TB in a context of extreme poverty and high levels of TB and HIV co-infection. However, given high levels of missing cases from case notification data there is need for further operational research, innovation and programme adaptation to further intensify case finding. These need to be geared to particular rural and urban Malawian contexts. In order to increase case detection the use of public-private partnerships have been explored in resource poor contexts, for example in India and Nepal [36, 37].
Further work is needed in this area in Malawi, especially given severe human resource constraints in the formal health sector and the multiple barriers poor groups face in accessing formal health services. With a limited number of private for profit providers, especially in rural areas there is need to think creatively about what constitutes the private sector, looking particularly at further development of partnerships with community groups and a range of informal providers who live close to communities. Partnerships between the National TB Control Programme and traditional healers in South Africa and the Gambia have proved effective and could also be explored in Malawi [38, 39]. The largest private-not-for-profit health provision in Malawi (mission-supported health facilities) is already integrated with public provision through the collaboration between Christian Health Association of Malawi (CHAM) and Ministry of Health.
Furthermore, simplification of the laboratory and diagnostic processes can also help to reduce the costs and opportunity costs poor patients face. There is a need to improve the speed and turnaround of results, and develop strategies to shorten the diagnostic pathway (technology used and numbers of smears submitted). The international literature shows that improved diagnostic efficiency can be achieved through examining a reduced number of specimens and accelerating the collection of samples to within a single day [40–42]. There is also a need to reconsider the need for rural patients to spend their first 2 weeks after TB diagnosis in hospital as this proves a significant barrier to many.
With the exception of Newell et al 2005 there has been limited discussion on either the programmatic or equity related opportunities and challenges disease control programmes face in moving from a vertical structure towards decentralisation and SWAps. For the Malawian NTP the move arguably provides a new impetus to strengthen relationships with district health officers, providers close to communities and community representatives. Strong relationships of this kind will provide a platform from which to jointly develop and implement district specific pro-poor and gender sensitive strategies to increases case detection and ease the pathway to care.
Conclusion
The Malawi National Tuberculosis Control Programme is well established with a good reputation within the sub Saharan region. The programme has attempted to be responsive to the needs of different social groups through the development of community based activities to intensify case finding amongst poor groups. Given increasing TB notification due to HIV co-infection, high numbers of missing cases, and a context of poverty and gender inequity there is need for further programme adaptation, innovation and operational research. The new environment of the PoW, EHP and SWAp offers news opportunities for strengthening relationships with multiple players at district level and for developing responsive pro-poor and gender sensitive interventions to ease patients pathway to care. It is time to seize these opportunities.
Declarations
Acknowledgements
The authors would like to acknowledge the members of the Ministry of Health SWAp Technical Working Group on Monitoring and Evaluation for advice and encouragement throughout the period of work, and the staff of DFID, Lilongwe who supported the work financially and technically.
Authors' Affiliations
(1)
Research for Equity And Community Health Trust, Lilongwe, Malawi
(2)
Community Health Sciences Unit, Ministry of Health, Lilongwe, Malawi
(3)
The National TB Control Programme, Ministry of Health, Lilongwe, Malawi
(4)
Liverpool School of Tropical Medicine, Pembroke Place, UK
Copyright
© Simwaka et al; licensee BioMed Central Ltd. 2007
This article is published under license to BioMed Central Ltd. This is an Open Access article distributed under the terms of the Creative Commons Attribution License (http://creativecommons.org/licenses/by/2.0), which permits unrestricted use, distribution, and reproduction in any medium, provided the original work is properly cited.