Systematic review

Open Access
Understanding the effects of socioeconomic status along the breast cancer continuum in Australian women: a systematic review of evidence
International Journal for Equity in Health
2017
16:182
Received: 13 March 2017
Accepted: 3 October 2017
Published: 16 October 2017
Abstract
Background
Globally, the provision of equitable outcomes for women with breast cancer is a priority for governments. However, there is growing evidence that a socioeconomic status (SES) gradient exists in outcomes across the breast cancer continuum – namely incidence, diagnosis, treatment, survival and mortality. This systematic review describes this evidence and, because of the importance of place in defining SES, findings are limited to the Australian experience.
Methods
An on-line search of PubMed and the Web of Science identified 44 studies published since 1995 which examined the influence of SES along the continuum. The critique of studies included the study design, the types and scales of SES variable measured, and the results in terms of direction and significance of the relationships found. To aid in the interpretation of results, the findings were discussed in the context of a systems dynamic feedback diagram.
Results
We found 67 findings which reported 107 relationships between SES within outcomes along the continuum. Results suggest no differences in the participation in screening by SES. Higher incidence was reported in women with higher SES whereas a negative association was reported between SES and diagnosis. Associations with treatment choice were specific to the treatment choice undertaken. Some evidence was found towards greater survival for women with higher SES, however, the evidence for a SES relationship with mortality was less conclusive.
Conclusions
In a universal health system such as that in Australia, evidence of an SES gradient exists, however, the strength and direction of this relationship varies along the continuum. This is a complex relationship and the heterogeneity in study design, the SES indicator selected and its representative scale further complicates our understanding of its influence. More complex multilevel studies are needed to better understand these relationships, the interactions between predictors and to reduce biases introduced by methodological issues.
Keywords
Breast cancer continuum
Socioeconomic status
Feedback diagram
Australia
Introduction
Addressing the delivery of equitable health services for the identification and treatment of cancer is a priority for high income nations. In Australia, like many other industrialised countries, breast cancer is the most common cancer affecting women [1]. A considerable amount of resources are directed to address issues relating to breast cancer along a continuum; i.e. the prevention, incidence/risk, detection/diagnosis, treatment, survivorship, survival and mortality [2]. However, there is growing evidence of socioeconomic status (SES) gradients along the stages of the breast cancer continuum [3–7]. The personal impacts such as reduced quality of life and premature deaths; societal impacts such as lost productivity; direct and indirect health care costs of these disparities are substantial and need to be addressed.
Past reviews [5, 8] have highlighted methodological issues which need to be considered to interpret the literature. The definition and measurement of SES is variable between studies, however, SES is usually measured through the socioeconomic triad, a mixture of single or composite indicators of employment, income and education. These indicators have been found to have varying associations depending on the type of cancer investigated [9]. The scale at which these SES indicators are collected has been found to influence these relationships. SES data collected through surveys from individuals represent what are seen as compositional factors which either promote or impede an individual's health [10, 11]. For example, individuals reporting higher levels of education [12] and income [13] have been found to have higher incidence of breast cancer but a lower risk of mortality. Where individual level data is not available, area level SES measures collected from national surveys or statistics have been used to represent two different perspectives. One is to mimic, at an aggregated level, the compositional individual level SES factors. Several studies have found mixed findings as to how well these area based statistics reflect individual circumstances [14–17]. The second has been to embody the contextual factors in which the individual resides [11], providing additional information on living circumstances not captured by individual level variables [14]. These represent differences in the physical environment, service provision, as well as political and cultural characteristics which, independent of personal circumstances, can influence health behaviour and health status [2, 10, 18]. Recent reviews have shown modest positive associations between the SES of women's residential area and breast cancer incidence and screening but not mortality [4, 19]. However, methodological differences relating to the scale of analysis used and the type of SES indicator used have led to mixed findings. For example, SES derived in smaller geographic units compared to larger units has produced stronger relationships in breast cancer survival [20] and incidence [21]. While the choice of indicator used and how it was defined (single versus a composite indicator) have also impacted the direction and magnitude of associations with survival [22]. Where individual and area level SES data are available, several studies have undertaken investigations into each characteristics' effects, reporting a higher incidence [23] and survival [24] from breast cancer in individuals with higher levels of education or woman living in areas of higher SES. To further evaluate the interactive effects between individual and area level characteristics, multilevel analysis has been used to disentangle the compositional and contextual level influences for specific points along the continuum. Several studies have reported a positive relationship between area level SES and incidence of breast cancer [23, 25] while others report no association [26, 27] citing individual SES as the major determinant [27]. These analyses overcome several methodological limitations present in looking at individual and area level SES associations independently, namely, individual and ecological fallacies and the Simpsons Paradox [28, 29].
Differences in the way SES is conceptualised, operationalised and analysed make comparisons between studies, and coming to a consensus, difficult. However, these must be taken into account so that the evidence base can inform future research in these areas and government policy. The aim of this study was to conduct a systematic review of literature to gather a weight of evidence to determine the strength and direction of the SES relationships across the breast cancer continuum. Given that the concept of place is fundamental to understanding these relationships, we will restrict this review to the Australian experience. This removes issues which relate to studies based in different countries where there are differences in the delivery of health services (universal versus private) and differences in the racial and ethnic structure of the population. Furthermore, by limiting these studies to one geographic area, we can investigate the effect of methodological issues on the relationships and highlight any gaps in our understanding. In our review we also restrict the definition of the breast cancer continuum to incidence, detection, diagnosis, treatment, survival and mortality. This allows us to focus on specific areas of outcomes and care. To tie the evidence base across the continuum together we discuss the findings through a simple systems dynamics feedback diagram to provide a deeper understanding of the interacting processes involved in incidence, detection, diagnosis, treatment and their effect on the outcomes of survival and mortality. Gathering evidence at each stage, determining the direction of significant trends, highlighting evidence gaps for researchers, and understanding potential feedbacks between and within the stages will help to guide delivery of care and improve equity in outcomes which remains a considerable challenge for policy makers.
Methods
Search strategy
A list of search terms and keywords was developed and refined to reflect a focus on the socioeconomic inequalities across the breast cancer continuum among Australian women. Search terms lists were comprehensive and inclusive, combined under the following headings: socioeconomic status, breast cancer and Australia. Search terms were combined as follows:
1.

Socio-economic status: e.g. SES, socio-economic, socioeconomic, disadvantage, deprivation, income, poverty, education, and employment; AND.

2.

3.
The search was conducted at the end of July 2016 and included PubMed and the Web of Science databases. Studies were included if they met the inclusion criteria (described below). Unpublished work or published protocols without results were not included in the search. Grey literature were not included in the review as not all are indexed in scientific databases, however the relevant government reports we could access were included in the discussion. Finally, reference lists of identified articles were searched for additional relevant studies.
Study inclusion criteria
Types of participants
Australian female adults were the primary interest group for this review; therefore studies of adult (aged 18+ years) female members of the general Australian population were included.
Types of studies
Studies that examined the influence of SES (predictor) on breast cancer (outcome) were included. SES could be measured at the individual level (such as income or education), at an area level (such as indicators of socioeconomic status) or a combination of both. Studies of any design were included such as secondary analysis of population cancer registries, cross sectional retrospective telephone surveys and other cohort studies.
Types of outcomes
From the selected studies we extracted evidence of the types of findings which related to whether individual, area, individual and area or multilevel analyses were used and the significance of the relationships found (positive, negative, non-significant or non-reported) of SES gradients across the breast cancer continuum. This methodology took into account the hierarchical nature of the studies undertaken. Here, a study could potentially have multiple types of findings using a variety of individual and area level SES indicators and then report numerous significant results of varying directions. Direction of significance was determined using higher socioeconomic position/least disadvantage as the reference position. Therefore a positive relationship described when a higher socioeconomic position was associated with a higher incidence, higher likelihood of screening or treatment, or greater survival.
Study exclusion criteria
To limit the focus to socioeconomic inequalities in the general Australian adult population, studies that examined specific subgroups of the population such as Indigenous groups, children, individual case studies, people in specific workplaces, or males were excluded. We recognise that Indigenous women are a specific subgroup of the population who are more likely to be lower SES and experience poorer health outcomes. However, given the complex interaction of personal, social, and cultural factors affecting Indigenous women, and the generalisability of findings, the studies addressing this subgroup specifically were excluded from this review.
We limited our search to incidence, detection, diagnosis, treatment, survival and mortality along the breast cancer continuum. Studies that focused on the behavioural risk factors of cancer such as diet and lifestyle were excluded, as were those focused on the psychosocial predictors, such as knowledge and attitudes, towards cancer related behaviours or treatment. Studies retrieved in the search that controlled for socioeconomic factors as a covariate within their analysis but did not include it as an independent variable were also excluded.
Studies were limited to those published in English in the last 20 years (1995 onwards), to ensure that the findings of this review are relevant to the current healthcare context in Australia. One reviewer screened titles against inclusion criteria for eligible articles, then two reviewers screened abstracts and full text against the inclusion criteria with the final decision for inclusion made by the first author (Fig.
1
). A total of 44 papers were identified through the search terms and from the reference lists of the studies collected.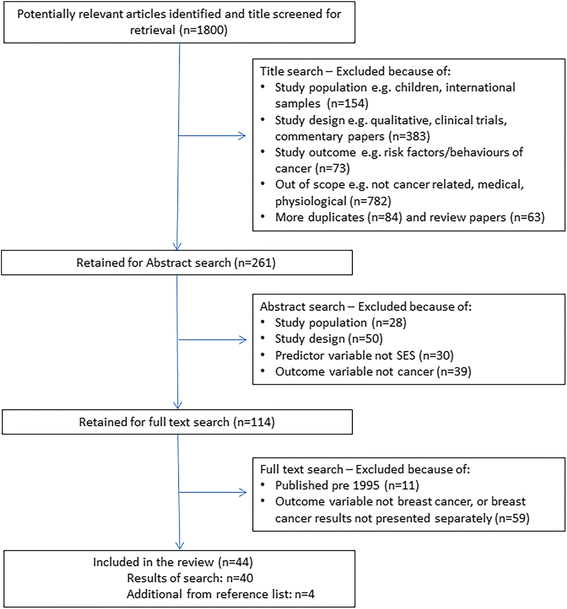 Study quality assessment
We have assessed the body of evidence in relation to a socioeconomic gradient in breast cancer across the continuum in Australian women. Some of the protocols for assessing the quality of evidence are directed more towards biomedical literature reviews (e.g. PRIMSA [30]) or clinical intervention (e.g. EPHPP [31]) which are not appropriate for this review. The National Health and Medical Research Council of Australia suggests five key components for rating the 'body of evidence': the evidence base, consistency of results, clinical impact, generalisability of results, and applicability of results [32]. The depth of the evidence base and consistency of its results will form the basis of the quality assessment for this review as these provide a picture of the internal validity of the study data that will support the development of policy. The other components of generalisability and application to the Australian Healthcare context are not really applicable here given this review is limited to studies of Australian women, and therefore highly generalisable and relevant to the target population. As part of this review we provide comment on the quantity of evidence for each stage across the continuum, that is the number of studies and consistency of findings, and the type of analysis undertaken in order to control for bias, for example where univariate or multivariate analysis was conducted. Relevant details were extracted from the papers as part of the data extraction process, checked by two reviewers and discrepancies resolved through discussion. Interpretation of the study quality was integrated into the description of results and agreed to by all authors. The majority (81%) of studies analysed population based datasets of state or the whole Australian population meaning that sample sizes were large and results representative of the Australian population more generally. When the evidence was from cross sectional studies, such as telephone surveys, the number of such studies was articulated within the stage of the continuum. While the quality of these studies could be deemed inferior to population studies of larger samples, a trade-off exists because these studies provide valuable information about individual level SES, which is not usually collected in larger population studies. Therefore, the study findings were not weighted, but their results discussed within the body of evidence for each stage along the continuum.
Data extraction strategy
Using a standardised Excel spreadsheet, one reviewer extracted data from papers including details of the study population, study design, dataset analysed i.e. name of the cancer or screening registry, used, stage across the continuum, types of socioeconomic variables used at individual and area levels and the scale at which the socioeconomic variable was measured (individual, area, individual and area, multilevel), statistical analysis, results and summary of findings. A second reviewer checked all data extracted, and the few discrepancies were resolved through discussion. Given the heterogeneity in measurement of SES, cancer outcomes and statistical analysis conducted, meta-analysis was not possible. Instead the data synthesised using frequency counts and described as a narrative of findings.
Discussion
To illustrate the interrelatedness of the SES findings, a feedback diagram (Fig.
2
) is proposed. The diagram enables us to contextualise the findings of this review as interrelated components and elements within a larger, complex system. The model consists of three components: Component 1 represents the interaction of the mammography, diagnosis and incidence elements, Component 2 embodies the treatment interactions once women have been diagnosed, and Component 3 signifies survival and mortality relationships.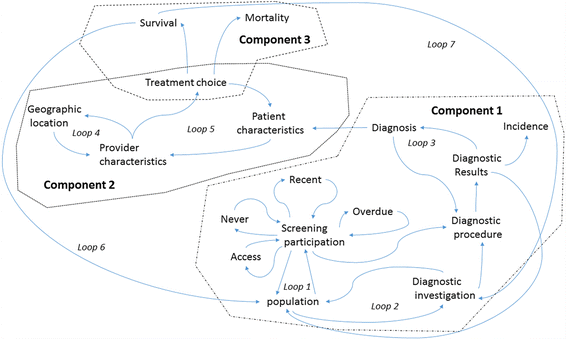 Conclusion
In a universal health system such as that in Australia, evidence of an SES gradient exists, however, the strength and direction of this relationship varies along the breast cancer continuum. This is a complex relationship and the heterogeneity in study design, the SES indicator selected and the scale they represent further complicates our understanding of its influence. More complex multilevel studies are needed to better understand these relationships, the interactions between predictors and to reduce biases introduced by methodological issues.
Declarations
Acknowledgements
The first author wishes to recognise project funding support provided by Lotterywest under the Western Australian Data Linkage Infrastructure Project (Application number 421003516) to undertake this study. The publication of the study results was not contingent on the sponsor's approval.
Funding
The first author was funded by the Western Australian Data Linkage Infrastructure Project (Application number 421003516) provided by Lotterywest. The funding body was not involved in the design of the study, collection, analysis, and interpretation of data and in writing the manuscript.
Availability of data and materials
The data extraction spreadsheet used and analysed during the current study are available from the corresponding author on reasonable request.
Authors' contributions
GL and DH designed the scope of the review. GL and GH designed the search strategy. GL and GH jointly conducted the search, screened citations, read and appraised the literature, and summarised findings. GL wrote the first draft of the manuscript and constructed the figures and Tables. DH helped in interpretation of the results. DH and GH critically reviewed and revised subsequent drafts. All authors read and approved the final manuscript.
Ethics approval and consent to participate
Not Applicable.
Consent for publication
Not Applicable.
Competing interests
D. Hendrie authored two of the articles included in the current review. The authors declare that they have no competing interests.
Publisher's Note
Springer Nature remains neutral with regard to jurisdictional claims in published maps and institutional affiliations.
Open AccessThis article is distributed under the terms of the Creative Commons Attribution 4.0 International License (http://creativecommons.org/licenses/by/4.0/), which permits unrestricted use, distribution, and reproduction in any medium, provided you give appropriate credit to the original author(s) and the source, provide a link to the Creative Commons license, and indicate if changes were made. The Creative Commons Public Domain Dedication waiver (http://creativecommons.org/publicdomain/zero/1.0/) applies to the data made available in this article, unless otherwise stated.
Authors' Affiliations
(1)
Centre for Population Health Research, Curtin University, Perth, Australia
(2)
CSIRO Health and Biosecurity, Adelaide, Australia
(3)
School of Public Health, Curtin University, Perth, Australia