Systematic review

Open Access
A systematic review of barriers to optimal outpatient specialist services for individuals with prevalent chronic diseases: what are the unique and common barriers experienced by patients in high income countries?
International Journal for Equity in Health
The official journal of the International Society for Equity in Health
2015
14:52
Received: 16 November 2014
Accepted: 29 April 2015
Published: 9 June 2015
Abstract
Health utilization and need assessment data suggest there is considerable variation in access to outpatient specialist care. However, it is unclear if the types of barriers experienced are specific to chronic disease groups or experienced universally. This systematic review provides a detailed summary of common and unique barriers experienced by chronic disease groups when accessing and receiving care, and a synthesized list of possible health service initiatives to improve equitable delivery of optimal care in high-income countries. Quantitative articles describing barriers to specialist outpatient services were retrieved from CINAHL, MEDLINE, Embase, and PyscINFO. To be eligible for review, studies: were published from 2002 to May 2014; included samples with cancer, diabetes mellitus, osteoporosis, arthritis, ischaemic heart disease, stroke, asthma, chronic pulmonary disorder (COPD) or depression; and, were conducted in high-income countries. Using a previously validated model of access (Penchansky and Thomas' model of fit), barriers were grouped according to five overarching domains and defined in more detail using 33 medical subject headings. Results from reviewed articles, including the scope and frequency of reported barriers, are conceptualized using thematic analysis and framed as possible health service initiatives. A total of 3181 unique records were screened for eligibility, of which 74 studies were included in final analysis. The largest proportion of studies reported acceptability barriers (75.7 %), of which demographic disparities (44.6 %) were reported across all diseases. Other frequently reported barriers included inadequate need assessment (25.7 %), information provision (32.4 %), or health communication (20 %). Unique barriers were identified for oncology, mental health, and COPD samples. Based on the scope, frequency and measurement of reported barriers, eight key themes with associated implications for health services are presented. Examples include: common accommodation and accessibility barriers caused on service organization or physical structure, such as parking and appointment scheduling; common barriers created by poor coordination of care within the healthcare team; and unique barriers resulting from inadequate need assessment and referral practices. Consideration of barriers, across and within chronic diseases, suggests a number of specific initiatives are likely to improve the delivery of patient-centered care and increase equity in access to high-quality health services.
Keywords
Health servicesOutpatientCancerDepressionDiabetes mellitusHeart diseasesJoint diseasesStrokeSystematic reviewAccessibility
Introduction
In the last decade, chronic diseases such as cancer, heart disease and diabetes have become the leading cause of death worldwide and are associated with 59 % of deaths and 46 % of the global disease burden [1]. Chronic diseases are characterised by multiple causality, genetic and lifestyle risk factors, long latency periods, and prolonged periods of illness with some level of functional impairment or disability [2]. Individuals diagnosed with a chronic disease often suffer from reduced quality of life and report poor physical functioning and emotional wellbeing [3].
Individuals with chronic diseases are frequent users of complex and costly healthcare services [4]. Chronic disease care usually requires comprehensive and personalised services involving multi-disciplinary teams. This care is often delivered at outpatient clinics, which are defined as services providing diagnostic or therapeutic care not requiring an overnight stay in a medical institution [5]. Currently, non-emergency outpatient services for chronic diseases account for a large proportion of health expenditures within high-income countries [6]. In 2011, the Organization for Economic Co-operation and Development (OECD) estimated high income countries allocate, on average, approximately 33 % of their total healthcare budgets to outpatient services [6]. However, several countries dedicate an even larger proportion to these services including a variety of private and public-based systems.
With the associated high healthcare expenditure and disease burden, effective management of chronic diseases have been targeted in policy and research initiatives. Within high-income countries, emphasis has been placed on improving the efficiency and ability of health systems to respond to chronic disease patients' evolving healthcare needs in an equitable manner. Several performance indicators relating to chronic care are incorporated into quality frameworks proposed by organizations such as the Institute of Medicine [7], the Australian National Health Performance Committee [8], the United Kingdom's National Institute of Health [9], and the World Health Organization [10]. Suggested performance domains focus on equity, effectiveness, safety, responsiveness, continuity of care, efficiency and accessibility. Beyond these domains, patient-centered care is also considered to be essential to high quality healthcare and requires patients' preferences and values to be considered in healthcare provision [11].
Accessibility is defined as the ability to receive timely resources to manage personal healthcare needs in order to achieve the best possible outcomes [
12
]. Several theoretical frameworks have been proposed in order to differentiate and operationalize the factors that can act as potential barriers to receiving care [
13
]. Roy Penchansky and William Thomas suggested a model of fit where access is conceptualized as the degree of fit between patient need and the service's ability to respond to and meet those needs [
14
]. Poor 'fit' will result in an access barrier. Five distinct forms of barriers have been proposed and validated within this model (Table
1
). Metrics used to describe these potential barriers to service access have included: 1) equitable patterns of service utilization according to demographic, clinical, or health insurance characteristics; 2) having a usual source of care; 3) patient need assessment, for example levels of unmet medical, supportive care, or prescription needs; and 4) patient satisfaction surveys [
12
,
15
–
17
].
Table 1
Definition of barriers within the model of fit
| Form of barrier | Definitions [107] |
| --- | --- |
| Availability | The relationship between the volume or type of existing services and patient volume or type of needs. |
| Accessibility | The relationship between the location of health services and the location of the patients. |
| Accommodation | The relationship between the manner in which the supply resources are organized to accept patients and the patients' ability to accommodate to these factors. |
| Affordability | The relationship between prices of services and the patients' ability and willingness to pay for these services. |
| Acceptability | The relationship between patients' attitudes to personal and practice characteristics of existing providers and alternatively, provider perceptions of patients' characteristics. |
There is considerable inequity in access to high quality outpatient services. Health service utilization data has consistently demonstrated an association between patient characteristics and access barriers for individuals with chronic diseases. For example, ethnic minorities within the United States have been found to be significantly less likely to access outpatient services for asthma, hypertension, diabetes mellitus or congestive heart failure as compared to Caucasians [18]. This trend has also been identified in access to oncology services [19].
The proportion of unmet needs reported by patients is significantly higher for those with chronic diseases and increases with comorbidities [20]. Results from the Canadian Community Health Survey and national hospitalisation data report that unmet needs in samples of people with chronic diseases remain disproportionally high even after controlling for socio-demographic characteristics [20]. Research also suggests individuals with chronic diseases (lasting at least 6 months with restrictions in activities of daily living) were three times more likely to report an unmet need than individuals without a chronic disease [4]. Overall, health service utilization and need assessment survey data suggest individuals with chronic diseases struggle to access required health services; while these health services struggle to meet patients' ongoing needs.
Health service planning and policy would benefit from detailed information on the scope of common and unique (i.e., disease-specific) barriers to optimal care. Currently, there is a lack of research comparing the barriers to care experienced across groups with chronic diseases [21]. While there are some trends in the types of barriers experienced by these groups, there has been no overarching review to distinguish experiences or concerns which are common across chronic disease groups compared to those which are unique to particular groups or diseases. Understanding the unique barriers to care experienced by particular groups may help to guide health service research to develop quality initiatives to target specific accessibility issue; conversely, those barriers that are common across groups should be prioritised and managed on a system-level.
This systematic literature review will examine the common and unique barriers experienced by nine chronic disease groups when accessing specialist outpatient care. For the purposes of this review, the definition of barrier proposed within the model of fit will be used - any factor which impedes or reduces the availability, accessibility, affordability, accommodation or amenability of outpatient care [14]. Additional factors that influence patient unmet needs, utilization patterns, and satisfaction that are not adequately captured by the model of fit will also be recorded. This includes patient-centered care domains, such as support for self-management or care coordination within multidisciplinary teams, that have recently become corner-stones of healthcare quality initiatives [11, 22]. The results will be highly applicable to a range of chronic disease health services and will be the preliminary step to understanding how limited access and unmet needs can be appropriately addressed by quality improvement initiatives within specialized outpatient settings.
Objectives
This systematic review of quantitative studies was conducted to describe:
1.

The scope and frequency of barriers reported by chronic disease patients when accessing outpatient specialist services;

2.

The common and unique barriers that are reported across or within chronic diseases.
Beyond providing a quantitative description of the scope, frequency, and commonality of barriers experienced when accessing services, recurrent themes within the reviewed studies were summarized and framed within the context of health service interventions. This synthesis of study results provides a preliminary understanding of those approaches capable of improving the equitable delivery of chronic disease outpatient care within high-income countries.
Review
Methods
A systematic literature review of quantitative studies was conducted according to The Preferred Reporting Items for Systematic Reviews and Meta-Analyses (PRISMA) statement [23].
Search strategy
Search terms were generated iteratively by the research team and reviewed by an experienced medical librarian. Search terms used in various combinations included: chronic disease; neoplasm; outpatient or ambulatory services. The following search limits were applied: English language; all adults defined as over the age of eighteen years; and publication date between 2002 and 2014. This year range was applied to capture articles published in response to several seminal articles released in 2001 that proposed accessibility as a quality indicator. This includes the Institute of Medicine's Crossing the Quality Chasm [7]. An example of the electronic search strategy is available in the Supplementary Material (Additional file 1).
Information sources
The search was conducted in: the Cumulative Index to Nursing and Allied Health Literature (CINAHL); Embase; MEDLINE; and PsychINFO. The final search was completed May 2014.
Eligibility criteria
Quantitative or mixed methods studies which report barriers to receiving optimal specialist outpatient care were eligible for review. Six inclusion and eight exclusion criteria were applied to retrieved articles (Table
2
). To ensure articles were relevant within high-income countries, only research conducted in 31 high-income Organization for Economic Co-operation and Development (OECD) countries were eligible for review [
24
]. A total of nine prevalent chronic diseases were included: Type 2 diabetes, arthritis, osteoporosis, ischaemic heart disease (coronary heart disease), stroke, depression, asthma, non-melanoma cancers, and chronic obstructive pulmonary disorders. These diseases were selected as they have been proposed as health priority areas within Australia [
25
], the Pan-Americas [
26
], Europe [
27
], and are included in major WHO reports relating to chronic diseases [
28
].
Table 2
Eligibility criteria for all retrieved articles
Inclusion criteria

Exclusion criteria

1. Quantitative or mixed methods study design

1. Qualitative study design, editorial letters, opinion articles or teaching documents

2. Adult patient, health service professionals or support persons are sampled

2. Paediatric samples (less than 18 years of age)

3. Study setting is an outpatient specialist service

3a. Participants are recruited from outpatient settings, but barriers to other care settings are assessed

3b. Palliative, emergency or in-patient services only

3c. Non specialist services only (such as primary care practices)

4. Study must clearly specify one or more of diseases of interest are included in the study sample.

4. Acute or other chronic diseases not listed as diseases of interest

5. A barrier to optimal outpatient care is measured

5. No barrier is measured (eg. treatment efficacy, diagnostic protocol, symptom or disease prevalence)

6. High income OECD countriesa

6. All middle or low income non-OECD countries

7. Full text articles published in English

7. Conference proceedings, unavailable full text articles or article not published in English
Paediatric research was excluded. Research involving childhood cancer survivors was included if the majority (>50 %) of participants were eighteen years of age or older. Several studies explored barriers across specialist, primary care, and inpatient services – these studies were only included if the majority of participants (>50 %) accessed outpatient services or a sub-group analysis was performed. Eligibility criteria were independently pilot tested by two members of the research team with a random sample of titles and abstracts (10 %).
Study selection process
Using the eligibility criteria, a research team member reviewed all titles and abstracts. A random 10 % of these were reviewed by an independent secondary reviewer. A Cohen's kappa value was recorded to assess inter-rater reliability. Discrepancies between the two reviewers were discussed, and if unresolved, a third reviewer was included to reach consensus. The study selection process was facilitated by Synthesis, a literature review software package [29].
Data collection process
Study characteristics and data describing the barriers to receiving optimal outpatient care were extracted from full-text articles using a structured electronic form. All eligible full-text articles were coded by one reviewer, with a random 10 % of articles coded by a second independent reviewer. Coded results from the two reviewers were compared to ensure the process was systematic and comprehensive.
Data items
Data items were extracted to address the following study objectives:
Objective 1: To describe the scope and frequency of barriers experienced when accessing specialist outpatient services, the following was recorded: 1) if a barrier relating to one of five domains within the model of fit - availability, accessibility, affordability, accommodation or acceptability (defined in Table 1)- was assessed; 2) the disease(s) of interest; and 3) the service(s) of interest. To describe any additional variables focusing on any barriers to optimal outpatient care that were not adequately captured within the model of fit, patient-centered care domains including information provision, self-management, need assessment, coordination of care, and medical errors were also recorded.
For each of the five domains defined in the model of fit and for additional barriers to optimal care, key terms were used to describe barriers in more detail. Where possible, Medical Subject Headings (MeSH) were chosen. For example, a general affordability barrier could be described as inadequate insurance coverage (MeSH: health insurance) or inability to pay for initial services or ongoing care (MeSH: medical fees).
Objective 2: To describe the common and unique barriers reported by chronic diseases, the number of disease groups reporting the barrier was recorded. A barrier was considered common if reported in relation to three or more diseases. Alternatively, a barrier was considered unique if reported in relation to one or two diseases. This range was selected as the high volume of oncology studies masked potential unique barriers experienced by only one other chronic disease, such as depression.
Finally, in order to frame these results within the context of health service interventions, the research team summarized emerging concepts using a thematic analysis approach [30]. To determine those concepts which were of most significance and relevance to outpatient service, raw study data were recorded and recurrent themes were summarized by the research team. This is considered as a data-driven thematic approach [30].
Summary measures
If reported, the proportion or odds ratio of participants indicating a barrier was recorded as raw data. Due to the heterogeneity of study designs and outcome measures, meta-analysis could not be conducted.
Results and discussion
Study selection
A total of 3263 records were identified using the electronic search strategy, of which 3181 were unique records (Fig.
1
). The eligibility screening process excluded 2767 abstracts. The initial kappa value reported for agreement between the two raters when reviewing the first 10 % of abstracts (selected using a statistical software random number generator) was 0.72, indicating substantial inter-rater reliability [
31
]. After discussion, all eligibility disagreements were resolved.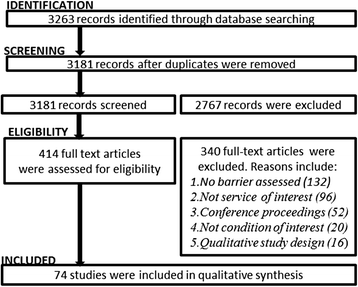 A total of 414 full text articles were screened for eligibility. The initial kappa value reported for agreement between the two raters when reviewing the first 10 % of full text articles (selected using a statistical software random number generator) was 1.0, indicating perfect agreement [31]. The eligibility screening process excluded 340 full text articles. The most common reasons for exclusion were not including a specialist outpatient setting (28.2 %), not measuring any barriers (38.8 %), or conference proceedings (15.3 %). One paper was excluded as the authors did not respond to a request for additional clarification on the applied study measure. A total of 74 articles met eligibility criteria and were included in the review (Fig. 1).
Study characteristics
The majority of studies employed a descriptive cross-sectional survey design (50 of 74 studies, 67.6 %) [32–81] and all chronic diseases of interest were reported in at least one article. However, the volume of articles differed between chronic diseases: 59 articles (79.7 %) included oncology samples [19, 32–40, 42–47, 50–55, 57–63, 65–72, 74, 76–96]; 12 articles (16.2 %) included depression [32, 33, 41, 62, 64, 75, 83, 93, 97–100]; 10 articles (13.5 %) included diabetes [18, 32, 33, 64, 74, 75, 83, 101–103]; 10 articles (13.5 %) included ischaemic heart disease [18, 32, 33, 48, 56, 64, 74, 75, 83, 102]; 7 articles (9.5 %) included COPD [32, 33, 49, 56, 74, 75, 102]; 7 articles (9.5 %) included asthma [18, 32, 33, 64, 74, 75, 83]; 6 articles (8.1 %) included arthritis [32, 33, 73–75, 83]; and 3 articles (4.1 %) included osteoporosis [73–75]. A total of 12 studies (16.2 %) included more than one disease of interest [18, 32, 33, 56, 62, 64, 73–75, 83, 93, 102]. As such, excepting oncology, diseases of interest were predominately analysed as part of a cluster.
Results of individual studies
Conclusions
Overall, patients with prevalent chronic diseases experience thirty three specific barriers to outpatient care across six accessibility domains. This includes additional patient-centered care dimensions such as self-care, consumer information provision, and need assessment. By focusing on prevalent chronic diseases within outpatient specialist settings, this systematic review describes the scope and frequency of common and unique barriers to care and synthesizes this into a concise list of potential quality improvement initiatives.
Results from this review suggest that in order to design targeted initiatives, it is important characterize barriers in detail and to explore possible barriers in the delivery of patient-centered care. In examining the common barriers, four themes were recurrent across chronic disease groups. First, at initial contact with a health care service, individuals experience delays to first appointment or treatment and causes considerable patient concern. Second, patients report health services are not organized or sufficiently flexible to accommodate scheduling preferences, and the physical structure of the clinic limits accessibility. Third, poor continuity of care and information transfer in the healthcare team was perceived to negatively impact the quality of care received. Fourth, inadequate information provision and a lack of involvement in treatment decisions were reported by multiple chronic disease groups. Given these themes were recurrent across chronic disease groups, system-wide initiatives targeting these gaps in the quality of care are appropriate and should be prioritized. Health services may consider improvements in: appointment scheduling systems; content of and access to medical records across health professionals; and timely provision of personalized information with multiple opportunities to review patient concerns.
In examining the unique barriers experienced by only a few chronic disease groups, need assessment practices and referral processes were seen as sub-optimal by individuals diagnosed with cancer and/or depression. Health services may consider evaluating current screening practices to ensure need assessments are: routinely and systematically conducted; sufficiently flexible to document salient needs that may be outside the scope of physical or emotional concerns, such as psychosocial or spirituality needs; and provide instruction and a process to address a detected need, such as an automatic referral pathway. Results from this study suggest these initiatives may best targeted within oncology or mental health services.
Declarations
Acknowledgements
Dr Jamie Bryant is supported by an Australian Research Council Post-Doctoral Industry Fellowship. A/Prof Christine Paul was supported by an HMRI Fellowship and an NHMRC Career Development Fellowship. This work was supported by a Strategic Research Partnership Grant from Cancer Council NSW to the Newcastle Cancer Control Collaborative (New-3C), and Hunter Medical Research Institute (HMRI) infrastructure funding. Authors would like to thank the University of Newcastle library services for reviewing the study design and search strategy.
Authors' Affiliations
(1)
Priority Research Centre for Health Behaviour and Hunter Medical Research Institute, School of Medicine and Public Health, University of Newcastle, Callaghan, Australia
Copyright
© Fradgley et al. 2015
This is an Open Access article distributed under the terms of the Creative Commons Attribution License (http://creativecommons.org/licenses/by/4.0), which permits unrestricted use, distribution, and reproduction in any medium, provided the original work is properly credited. The Creative Commons Public Domain Dedication waiver (http://creativecommons.org/publicdomain/zero/1.0/) applies to the data made available in this article, unless otherwise stated.