A healthy mistrust: how worldview relates to attitudes about breast cancer screening in a cross-sectional survey of low-income women
International Journal for Equity in Health
2008
7:5
Received: 27 July 2006
Accepted: 31 January 2008
Published: 31 January 2008
Abstract
Background
Perceived racial discrimination is one factor which may discourage ethnic minorities from using healthcare. However, existing research only partially explains why some persons do accept health promotion messages and use preventive care, while others do not. This analysis explores 1) the psychosocial characteristics of those, within disadvantaged groups, who identify their previous experiences as racially discriminatory, 2) the extent to which perceived racism is associated with broader perspectives on societal racism and powerlessness, and 3) how these views relate to disadvantaged groups' expectation of mistreatment in healthcare, feelings of mistrust, and motivation to use care.
Methods
Using survey data from 576 African-American women, we explored the prevalence and predictors of beliefs and experiences related to social disengagement, racial discrimination, desired and actual racial concordance with medical providers, and fear of medical research. We then used both sociodemographic characteristics, and experiences and attitudes about disadvantage, to model respondents' scores on an index of personal motivation to receive breast cancer screening, measuring screening knowledge, rejection of fatalistic explanatory models of cancer, and belief in early detection, and in collaborative models of patient-provider responsibility.
Results
Age was associated with lower motivation to screen, as were depressive symptoms, anomie, and fear of medical research. Motivation was low among those more comfortable with African-American providers, regardless of current provider race. However, greater awareness of societal racism positively predicted motivation, as did talking to others when experiencing discrimination. Talking was most useful for women with depressive symptoms.
Conclusion
Supporting the Durkheimian concepts of both anomic and altruistic suicide, both disengagement (depression, anomie, vulnerability to victimization, and discomfort with non-Black physicians) as well as over-acceptance (low awareness of discrimination in society) predict poor health maintenance attitudes in disadvantaged women. Women who recognize their connection to other African-American women, and who talk about negative experiences, appear most motivated to protect their health.
Keywords
Racial DiscriminationPsychosocial CharacteristicCalifornia Health Interview SurveyScreening MotivationRacial Concordance
Background
Despite recent questions, most cancer control groups recommend annual mammography for women beginning at age 40[1]. In the United States, screening requires material resources such as access to care and means of payment, but also requires social and psychological resources to weigh the costs and benefits of early detection and treatment, and choose to enter the healthcare system. Research demonstrates that older, low-income African-American women, among other groups, are less likely to receive screening at recommended levels, even in situations where payment and access barriers are removed [2]. Suboptimal use of secondary prevention for breast cancer compounds the greater risk faced by African-American women from more aggressive tumor biology and younger onset of disease [3, 4], and contributes to their excess breast cancer mortality compared to other ethnic groups in the U.S. [5]
Inequities in the secondary prevention of breast cancer have been traditionally framed in terms of barriers of access. Measurement of equitable distribution of preventive services such as mammography typically uses utilization as an endpoint; for example, by comparing rates of screening between groups [5]. However, in a critical analysis of the literature on access to healthcare, Dixon-Woods and colleagues [6] propose extending our conceptualization of equity in health care to include the more subjective concept of 'candidacy', defined as the patient's sense of legitimacy in using healthcare. Candidacy is the dynamic, "continually negotiated property of individuals, subject to multiple influences arising both from people and their social contexts and from macro-level influences on allocation of resources and configuration of services." Understanding how "vulnerabilities arise in relation to candidacy" may shed light on the roots of inequities in health and health care, by tying seemingly individual behaviors in utilization to socially patterned influences.
Research on cancer screening behavior has been dominated by fairly narrow fields of theory – individual psychological factors, or broad generalizations about the effect of social factors such as poverty, culture, gender or age. There is a need to use integrated approaches to examine how social factors shape behaviors, in order to reduce barriers to health-enhancing attitudes and behaviors, such as cancer screening.
One important area for such an integrated approach is in relation to how mistrust of the medical care system impacts use of care, especially for discretionary events such as preventive screening. The growing literature on health disparities acknowledges that the U.S. medical system has not always served those without power well [7]. Like all institutions, health care systems reflect the basic inequalities of the societies in which they function. Medical practitioners, as agents in a power asymmetry, may strive as individuals to reduce barriers for patients and build individual relationships that are positive, but may be powerless to fight the image of medical system as untrustworthy. Recent attention in the United States to the "Tuskegee Legacy" and the impact of this discussion on African-American attitudes towards medical care is but one of many social tensions being played out [8–10].
However, there is an equally strong argument that, especially among populations whose health is jeopardized across the life-course by many factors, access to and appropriate use of medical care is an important weapon for well-being. What are the best ways to understand barriers to preventive screening from both an individual and social perspective?
Research on societal-level influences on health, as well as studies of individual attitudes and beliefs, consistently find important differences in health behaviors between those in low resource environments compared to those in settings with better resources [11, 12]; however, studies comparing health behaviors in advantaged versus disadvantaged groups often do not explore individual variation within social groups. Neither individual nor social approaches to studying health behaviors, by themselves, explain why, within low resource environments, some individuals exhibit hardiness – the ability to maintain health promoting attitudes and behaviors in the face of multiple barriers. In order to understand how the experience of social phenomena shapes individual differences in health attitudes, it is important to examine, from the individual's perspective, the interpretation of adverse social experiences, and the social resources used to combat them.
Methods
Population
Data used in these analyses come from a multi-year National Cancer Institute-funded study of breast cancer screening among African-American women in Baltimore, Maryland, a large US city. Methods and related findings have been previously published [2, 67–69] and will be briefly described here. With the original purpose of evaluating the impact of a no-cost screening intervention within communities at risk for poor screening, we recruited all screening program participants age 45 and older residing in the 10 contiguous zipcodes of East Baltimore which served as the target catchment area of this program. This area, comprising roughly 40% of the City, contains both working class and extremely low income areas. We also recruited an age (± 5 years) and neighborhood-matched sample of participant-nominated friends and neighbors not attending the program. The 90-minute, in-home audiotaped interview was conducted by African-American female interviewers. During 1997 and 1998, we interviewed 576 women between the ages of 45 and 93, representing response rates of 83% and 86% from the clinic and nominated control sampling frames respectively. All participants provided written informed consent, and received $25 for participation. The study was approved by the Johns Hopkins Medical Institutions institutional review board.
The original case-control design was chosen to evaluate the impact of the screening program [2]. In addition, we geocoded all respondents by residential address; our comparison of respondents, using U.S. Census blockgroup-level data[70], to the sociodemographic characteristics of women in their neighborhoods supports analysis of the total group as a representative population of low and moderate income urban African-American women in East Baltimore, for questions not specifically related to the no-cost program [67–69].
Measures used
In order to examine cancer and health in the context of older African-American women's lives, we developed our survey instrument using both open-ended questions eliciting each woman's views in her own words, as well as structured measures, chosen from our own or others' work in African-American and women's health.
Independent measures: psychosocial measures
In these analyses, we use nine psychosocial covariates, including three sociodemographic measures: age, years of formal education, and self-reported household income, and two measures of physical and mental health status: each woman's rating of her health, and her responses on an abbreviated version of the CES-D [71] to measure depressive symptoms during the past week (Cronbach's Alpha = .82) [72]. In these analyses, we also incorporate four types of social connectedness: whether or not respondents currently worked, were homeowners, attended weekly religious activities, or were active in community events.
Measures of beliefs and experiences
For these analyses, we used several measures to explore multiple aspects of the respondents' perspectives and experiences with power, both on a societal level and also within the health care system. We used two items which measured perspectives, conceptualized as shaped by but distinct from a woman's own experiences. A five item version of Scrole's [73] scale of anomie measured generalized hopelessness (Cronbach's Alpha = .74). We used thirteen items from Green's [74] Perceptions of Racism Scale to capture views on inequities facing African-American women in various areas of American society, including general racism (2 items), medical care (6), courts and government (2), job-seeking (1), education (1), and social class (1), measuring four levels of respondent agreement or disagreement with statements such as "Judges are harder on African-Americans than whites." (Cronbach's Alpha = .79).
Krieger et al.'s well-validated measures [75] were used to capture personal experience with, and response to, racial discrimination. Respondents were asked, when faced with unfair treatment, whether they generally "accepted it as a fact of life" or "tried to do something about it." Similarly, they were asked if they generally "talked to other people" about such experiences or "kept it to yourself." They were then asked if they had ever experienced "discrimination, been prevented from doing something, been hassled or made to feel inferior because of your race or color" in each of six types of settings (school, job hiring, work, housing, medical care, police/courts). We created a single dichotomous item indicating any experience of perceived racism, and two dichotomous possible types of reactions: talking to others, and trying to do something. To distinguish between measures, we label Green's Perceptions of Racism Scale as "Societal Racism" and responses to Krieger's measure of experiences of perceived discrimination "due to race or color" as "Reported (or perceived) Racism".
Medical care experiences
We used two questions to create a four-category measure of whether or not the patient currently received medical care from a provider with whose race she felt comfortable. In a likert scale, we asked patients whether they strongly agreed, somewhat agreed, somewhat disagreed, or strongly disagreed with the statement, "I would be more comfortable seeing a doctor who was African-American than a doctor of another race." Elsewhere, we asked respondents whether their current primary provider was African-American. Women were grouped according to whether they had a primary provider who was African-American or not, and whether they agreed that they would be more comfortable with an African-American provider.
To specifically measure fear of deception in medical care, we asked the following: "Some people are afraid of being treated at big research hospitals like Johns Hopkins, because they are afraid they might be part of a research experiment without knowing it. Would you be concerned about that?"
Outcome: positive attitude toward mammography
The focus of this investigation is attitudes and beliefs about the secondary prevention of cancer, rather than actual behaviors. In these data, consistent with existing literature, we have found that a woman's actual receipt of screening is influenced by many facilitators and barriers in addition to attitudes, including access to care, costs, and physician recommendation [2, 67, 68]. For these reasons, in this analysis, we chose to examine screening-related motivation, an important psychological component of health behavior in its own right, rather than the respondents' actual patterns of screening.
We operationalized our outcome variable as an index (appendix), summing respondents' answers to eleven questionnaire items regarding breast cancer and screening. We theorize that women with high scores on this index had an understanding of breast cancer and mammography compatible with cancer control strategies promulgated by the medical community, as well as willingness to use the majority culture medical system as a partner in managing their health. This index had a Cronbach's alpha of .71, indicating moderate reliability consistent with its use in this type of exploratory analysis [72].
Consistent with the strong literature demonstrating the link between prevention attitudes and behaviors, we found that these attitudes were indeed predictive of mammography behaviors. In testing the construct validity of this measure, we found it to be significantly and positively correlated with both time since last mammography and intention to receive future mammography.
Analysis
We were interested first in understanding the prevalence of the experiences and perspectives of interest in our study population, and also how these experiences and perspectives varied in different subgroups of our population. We conducted a bivariate analysis to examine relationships between our nine psychosocial characteristics of interest, and our measures of attitudes, experiences and screening index scores. In Tables 1 and 2, we report means and t-tests for continuous measures, and Chi Square statistic for categorical measures. In Table 3, we report the pairwise associations between attitudes, experiences, and screening motivation index scores, using Pearson correlation coefficients.
In Table 4, we use multivariate linear regression to examine our outcome of interest, a positive attitude towards mammography, in relation to psychosocial characteristics, perspectives and experiences. We present two multivariate models: a full model, including all independent predictors, and a final most parsimonious model, including only those variables significant at the p < .05 level, using backwards elimination. For the multivariate analysis, we standardized our continuous measures of age, years of formal schooling, CES-D score, anomie score, and societal racism score, by centering at the population mean, and dividing by the standard deviation. (Such arithmetic operations do not change relationships for main effects, but allow for the interpretation of interaction terms at values relevant in the population, such as the mean, rather than extreme values [76]). To examine modifying effects, after building the most parsimonious model of main effects, we tested whether model fit was improved by adding, one at a time, relevant two-way interaction terms of psychosocial characteristics, attitudes and experiences. We tested whether the effects of anomie, reported racism, societal racism, talking to others when experiencing discrimination, and physician race preference varied significantly by age, education level, or depressive symptoms.
We used mediational analysis [
77
,
78
] to explore further the mediating effects of worldviews and interpretations on the relationship between reported racism and screening motivation, as theorized in our model in Figure
1
. To explore the relationships on the left side of the model, between reported racism and worldview, we first used simple linear regression to estimate the relationship between reported racism and screening motivation, as well as reported racism and each of two potential mediating variables: societal racism and the respondent's reported typical response when experiencing racism (talking to another versus keeping it to herself). Next, we modeled two independent variable linear regression equations, predicting screening motivation from both reported racism and these two potential mediators.

To explore relationships on the right side of the model, between world views and more proximal attitudes about medical care, we first used simple linear regression to estimate the relationship between anomie and screening motivation, as well as anomie and preference for a Black medical provider. Next, we modeled a two independent variable linear regression equation, predicting screening motivation from both anomie and preference for a Black provider.
The results of these analyses are displayed in Figure
2
. SPSS statistical software [
79
] was used for all analyses.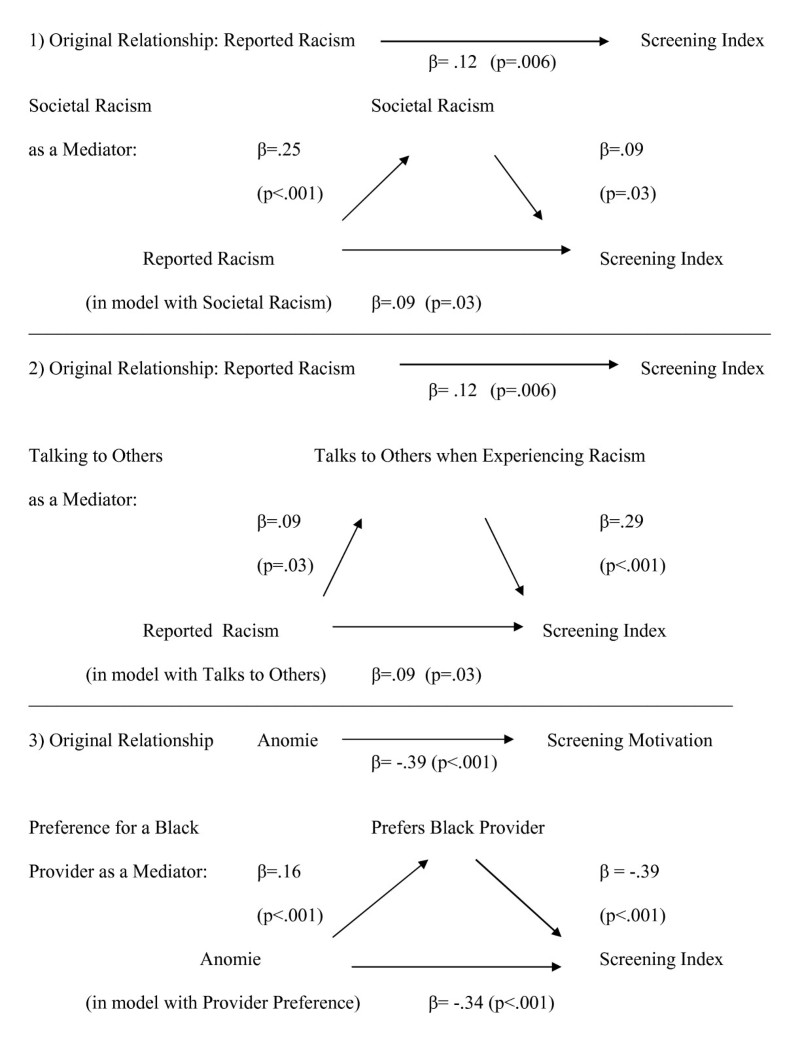 Discussion
Our goal was to identify experiential pathways through which social characteristics might predict differences in health maintenance attitudes. We can interpret our findings as showing three groups of influences on motivation to maintain one's health in partnership with the medical system: psychosocial characteristics, barriers to health engagement, and buffers against such barriers.
There are two significant social influences on screening motivation: age and educational level. The negative effect of age on these women's motivation for health maintenance was strong, and was only minimally reduced through the introduction of many important intermediate influences. Therefore we can speculate that cohort influences on learning about, and acceptance of, medical practices such as cancer screening are fundamental and powerful.
Older cohorts of women were socialized into medical care at a time when mammography and current philosophies of cancer control through secondary prevention were not as widely promulgated as they are today. Therefore, it is understandable that older women are less knowledgeable about, and less convinced of, the message of mammography use for successful breast cancer control.
We can also speculate that the active partnership model of patient behavior was less acceptable when these women were adopting their persona as patients. Especially for African-American women from lower social classes, traditional physician-patient relationship behaviors still predominate. Although we attribute these age differences to cohort effects, attitudinal changes with aging are also possible; this could be tested in a panel of women over time.
In contrast to age effects, education level, although important, worked through an interaction with other more immediate experiences, and must be considered in relation to those. The second important group of influences were barriers to health engagement. They appear to have operated at many levels – from societal to interpersonal to individual. Feelings of powerlessness are important barriers to health maintenance motivation – and there were three distinct types of powerlessness expressed by our respondents.
The first significant negative influence on screening motivation was a measure of depressive feelings. Although not a clinical assessment, these self-reported feelings clearly were a strong indicator of psychological burden among a substantial portion of our respondents. Unrecognized or undertreated depression among low resource groups such as the elderly and minorities puts these groups at risk for poor health maintenance, over and above barriers presented by age and poverty [81–83].
The other negative influence was anomie, a wider more philosophical measure of hopelessness, measuring powerlessness on a social level. Although these two measures were positively correlated, they both contributed independently to reducing a woman's motivation to maintain her health. Thus both personal and social hopelessness impeded health maintenance.
The third factor – a fear of being taken advantage of within the medical system itself through research-again had a specific independent role as a predictor of lower engagement in screening. Women who, in addition to societal and interpersonal hopelessness, also feared their vulnerability specifically within medical care settings, were more likely to score poorly in terms of health maintenance attitudes. The meaning of this result is significant in this urban setting, where much of the available care is affiliated with, or directly provided by, large academic hospitals. If urban residents seek to avoid care from providers and institutions affiliated in their minds with "research", they will find themselves facing additional limitations to good care, beyond those already presented by their poverty.
We identified several mechanisms by which respondents were buffered against these negative forces, and were more likely to report attitudes conducive to health maintenance. The first was acknowledgment of the negative experiences of African-Americans in many aspects of American society, as measured by the societal racism scale. We can interpret this as a form of race consciousness. This perspective allows women not to blame themselves for their negative experiences, but to attribute them to pervasive historical and social forces [84].
The second is the interpersonal strategy of discussing negative experiences attributed to racial discrimination, rather than keeping them to oneself. This can be thought of again as a method of personal empowerment, to seek connection to others rather than remain alone in one's experience. This talking strategy may be most important in promoting health maintenance attitudes for women who are depressed. Thus we see that women establish both direct and indirect social bonds – with women they know directly, and those they feel close to through the experience of race – and use those social bonds to maintain their health.
The second interaction term illustrates the complexity of interpreting our final set of findings – the relationship between the race of a current medical provider, and woman's self reported comfort level with African-American and non African-American physicians. The main effects for provider race and comfort levels showed that women who felt more comfortable with an African-American doctor, regardless of whether they had one currently or not, scored significantly lower on the breast cancer screening index.
At the reference level of education (11 years), the most significant main effect was seen in women who currently saw an African-American provider, and also agreed that they would be more comfortable with this race of physician. The negative effect of preference for a Black physician, when the woman did not currently see a Black physician, was less, although still statistically significant. In addition, this effect differed significantly by the woman's education level. The fewer years of formal education a woman reported, the stronger the negative effect of this preference was on screening motivation. However, as a woman's level of education increased, this negative effect was modified, and, at the highest levels of education, these women were just as likely to express views conducive to screening as the reference group of provider categories.
Therefore, the women with the lowest levels of health promoting views were poorly educated women who did not have access to an African-American physician, but would be more comfortable with one. These women scored poorly on all components of the health motivation index – on patient empowerment, on knowledge, and on confidence that they could fight cancer and win. In the absence of their own educational resources, they may feel a need to rely on a powerful health partner-someone of their own race to take responsibility for their health.
At the other end of the spectrum are well educated women who also did not have a black provider, but would have liked one. These women were empowered to care for themselves, perhaps in recognition that they could not count on non-black providers to take care of them. These women were just as likely as women without provider race preference to score well on the motivation index. Among educated women, the only group having a significantly lower score on screening motivation were women who have a black provider, and were more comfortable with one. These women may have adopted more passive roles than similarly educated women seeing non black providers, because they had greater trust in their physicians.
In order to explore for potential confounding effects in these results, we ran analyses omitting women without any regular provider. We also examined race-gender provider patterns, as well as insurance and practice type (clinic vs. solo practitioner) by physician race, with no change in findings.
Additionally, it is important to consider one variable which did not remain statistically significant and therefore was not included in the final models. Self-reported perceived discrimination was not a significant predictor of screening motivation, when anomie and societal racism perspectives were included. Therefore, we can speculate that these explanatory beliefs, indicating either isolation or group identity, may represent the translation of experiences into strategies for appraisal and response, and that these interpretations in turn have a more proximal effect on women's attitudes, and perhaps actions. We found further support for this interpretation in our mediational analyses which showed decreased significance for self-reported perceived racism in regression models when societal racism and talking to others when experiencing discrimination were added. Furthermore, we found evidence that worldviews, such as anomie, may directly influence health maintenance attitudes, but may also work through intervening variables, such as provider preference.
Limitations and further work
This work is limited by the cross-sectional measurement of experiences and attitudes, and can only suggest causal pathways, rather than confirm them. Although it examines one specific subgroup within the U.S. population at one timepoint, many of the trends we observed in relation to the frequency of, and characteristics associated with, perceived discrimination are consistent with the existing literature, supporting the generalizability of our findings.
However, where our findings differ, it is important to consider possible explanations. For example, more of our respondents reported same-race provider preference than a national sample of African-Americans surveyed by telephone in 1999 (32% vs 22%) [59, 60]. One possible explanation is suggested by the fact despite greater preference, slightly fewer of our respondents had black providers than the national sample (24% vs. 27%). Overall, this is consistent with fewer medical care options and poorer quality of care among this disadvantaged sample, compared to a national sample of African-Americans of all social groups. Furthermore, these data from one urban area may capture locally relevant issues such as ambivalence towards care provided by historically white research institutions. Finally, our face-to-face home-interviews conducted by black women interviewers, with markedly higher participation rates than the national survey (>90% vs. 49%), may have elicited greater disclosure of this sensitive issue than anonymous telephone surveys of national samples. For all these reasons, in-depth work in single populations has value in triangulating results of larger national surveys, and identifying questions for further inquiry.
How do the results from these analyses help answer the initial questions asked? The findings suggest that both personal and social disengagement are important barriers to health maintenance, and addressing both are important to promote health. However, results also suggest that, in addition to the need to address health care system issues, successful strategies may lie within disadvantaged populations themselves.
Specifically, the link between depressive and anomic feelings on one hand, and connection to others like oneself on the other, suggests that encouraging women to speak up about their negative experiences does not cause them to turn away from the majority system, but may in fact help them to use it. Moreover, these cross-sectional findings do not support the theory that perceived racism, whether in one's own lived experience or in society at large, is associated with depression, powerlessness, or reluctance to use medical care. Quite the opposite, perceptions of racism may, as others have observed [84], provide explanatory models for disadvantaged groups that can identify mechanisms with which to counter negative experiences.
Structuralist theory offers one lens through which to interpret these findings. At one extreme, we see that women who were truly alienated from society were poorly motivated to screen. The health consequences of social disengagement for both the individual person as well as societies and social groups has been shown across a wide range of health outcomes, most famously in Durkheim's conceptualization of anomic suicide. Our findings extend this effect of anomie to increasing the likelihood that a woman will engage in a less dramatic form of self-injurious behavior, if we interpret her attitudes to indicate she is less likely to use secondary prevention to protect herself against a future health risk. This finding suggests that early detection of cancer cannot be promoted in disadvantaged social groups without considering how to mediate the impact of social alienation on health attitudes.
On the other hand, we see that women who failed to recognize racial inequalities in American society were also at increased risk for attitudes associated with poor screening. In considering the 'curvilinear' effects of the tension between individuals and society, Durkheim proposed that there was a danger of altruistic as well as anomic suicide. Extending Durkheim's example of military officers whose 'passive habit of obedience (leads them) to undervalue their own lives,' [[85], p. 134–135] altruistic suicide is committed by those who are so overregulated by society and so enmeshed in their social roles that they cannot refuse to fulfill any negative aspects of those roles. We can speculate that African-American women who see no racism in American society, as well as those who do not speak out against injustices in their lives, are similarly sacrificing their own well-being in support of the social order. This may explain why a middle ground, including some level of mistrust, was associated with the healthiest attitudes among these African-American women.
Providers, especially minority providers, must understand the multiple levels of influence that their own race may have on their disadvantaged patients. Greater comfort in the patient-physician relationship may result not only because of positive bonds between patient and provider, but also because of fears or negative experiences involving other race providers [60, 62]. Our data suggest that persons most desiring same race providers and not having one are the most disadvantaged members of these communities. To the extent that those fears further restrict these patients from using care or protecting their health, they must be addressed. Again, these findings suggest that the solution does not lie in persuading these patients that the majority system is trustworthy or that individual providers can shield them from disadvantage and discrimination. It may lie instead in empowering these women, through connection to others like themselves, to claim equal "candidacy" in the health care system, make informed decisions for themselves and take control of their own health.
Appendix: Index of Positive Motivation For Screening
Domain 1: Rejects Fatalistic Explanations of Cancer, from a list of 15 Possible Causes
Now I am going to read you a list of some of the reasons that people might use to explain who gets breast cancer and who does not. For each reason, please thing about how much this might explain whether a woman gets breast cancer. Please tell me if you think it has a BIG EFFECT, SOME EFFECT, NOT MUCH EFFECT or NO EFFECT AT ALL on whether or not a woman gets breast cancer.
1) Contagious elements, such as a virus, and having direct contact with someone who has breast cancer.
2) Having the kind of personality that causes cancer.
3) Punishment for something a person has done wrong in her life.
Domain 2: Acceptance of Cancer as A Treatable Disease
4) If I had breast cancer, I would rather not know about it.
5) Cancer would be the worst disease I can imagine having.
Domain 3: Knowledge of Breast Cancer Control
6) "In your own words, can you tell me what a mammogram is, and what the purpose of it is?"
Defines Mammography as an X-Ray of the Breast: Yes/No
Defines Purpose as a Test for Breast Cancer: Yes/No
7) In most cases, by the time a doctor can see a breast cancer the size of a pin head on a mammogram, ...what is the chance of it already having spread to another part of her body? Is it not at likely, somewhat likely, very likely, or almost certain to have spread?
8) After a woman has had 2 or 3 negative mammograms, it is not necessary to have any more.
Domain 4: Role of Patient as Co-Equal with Provider in Cancer Control
9) If you trust your doctor, you do not need to ask for any tests. He or she will give them to you when you need them.
10) Regarding my health, I can only do what my doctor tells me to do.
11) Women can tell if they have breast cancer without going to the doctor for tests.
SCORING KEY: Items 1–3 highest score to "No effect at all". Items 4,5, 8–11: Likert Scale (strongly agree, agree a little, disagree a little, strongly disagree), highest score to "strongly disagree." Item 7: highest score to "not likely at all"
Declarations
Acknowledgements
Support for this research was provided by investigator-initiated grant R01 CA066065 to Dr. Klassen from the National Cancer Institute of the National Institutes of Health, and by funding to the Johns Hopkins Sidney Kimmel Comprehensive Cancer Center from the Avon Products Foundation. The funding agencies played no role in the conduct or interpretation of the research.
Authors' Affiliations
(1)
Department of Health, Behavior, and Society, Johns Hopkins Bloomberg School of Public Health, Baltimore, USA
(2)
Office of Preventive Oncology, National Cancer Institute, Bethesda, USA
Copyright
© Klassen et al; licensee BioMed Central Ltd. 2008
This article is published under license to BioMed Central Ltd. This is an Open Access article distributed under the terms of the Creative Commons Attribution License (http://creativecommons.org/licenses/by/2.0), which permits unrestricted use, distribution, and reproduction in any medium, provided the original work is properly cited.